Album: Yarrow, British Columbia

Friends 1 | Friends 2 | Friends 3 | Friends 4 | Friends 5
Holidays 1 | Holidays 2 | Holidays 3 | Holidays 4
Family 1 | Family 2 | Family 3 | Family 4 | Family 5 | Family 6 | Family 7 | Family 8 | Family 9
Yarrow Days | Yarrow Scenes | Yarrow Pioneers: Vedder River Flats & Majuba Hill | Vancouver Views | Victoria Times
Yarrow Elementary Junior High | Yarrow Junior High 1953-57 | Junior High Student Council | Yarrow Friends
1994 School Reunion 1 | 1994 School Reunion 2 | 1994 School Reunion 3 | 1994 School Reunion 4
Vedder River | Vedder Mountain
UBC Reunion | Critical Paths | Mug Shots

Yarrow, B.C. Scenes and Times

Yarrow, British Columbia

Yarrow, B.C.
View from Vedder Mountain
Yarrow Heritage Park
Old Yale Road Wagon Trail
aka Lovers' Lane
Lovers' Lane Creek
---
Yarrow's Famous Softball Teams
Provincial Intermediate Softball Champions - 1948
Knox Field, Wilson Road South
BR: George Derksen, Bernie Dyck, Henry "Tiny" Harder, Pete "Happy" Wall, Ernie "Nestor" Reimer, Jake "Brownie" Brown, Alex Fast
FR: Irwin "Wiener" Froese, Len "Leggy" Froese, John "Mex" Giesbrecht, George "Fuzzy" Enns, John "Vagy" Martens
Mary Froese & Cactus in the Announcer's Booth; Photograph: Hank "The Barber" Giesbrecht
Provincial Intermediate Softball Champions - 1951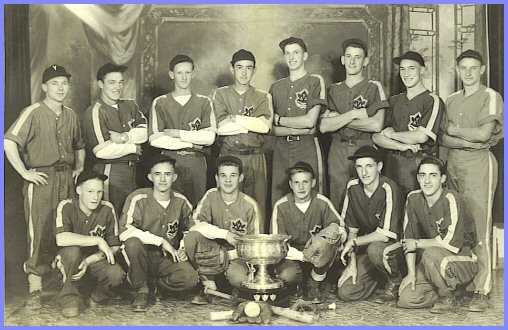 BR: Eddy Froese, John Dahl, Pete "6" Ratzlaff, Jake Wiebe, Hank Ratzlaff, Pete "7" Ratzlaff, Ernie Bergmann, Spike Klassen
FR: Rusty Bergmann, Hank "Crow" Martens, Irwin "Sally" Harder, Elmer "Slim" Neufeldt, Fred Adrian, Allan Wilkie
Photograph: Hank "The Barber" Giesbrecht
---
Yarrow Days' Parade, June 4, 2005 - Ethel Knox and Edith Knox
Yarrow Days' Parade, June 4, 2005 - Gotthard Rehsler's Cool Car
---
Yarrow Station - Wilson Road South - 1993
Ann Nightingale, Dave Nightingale, Pat Gillis, Shirley Giesbrecht, Robert Giesbrecht;
Photo by Elmer Wiens
Yarrow Station - Majuba Hill Park - 1993
Pat Gillis, Ann Nightingale, Shirley Giesbrecht, Robert Giesbrecht, Dave Nightingale;
Photo by Elmer Wiens
Freight Train at Wilson Road, Yarrow - December 28, 2004
---
Yarrow Days 1994, Yarrow Park
John Unger, Hilda Baerg, Otto Baerg, Elmer Wiens
---
Yarrow Flowers and Yarrow Girls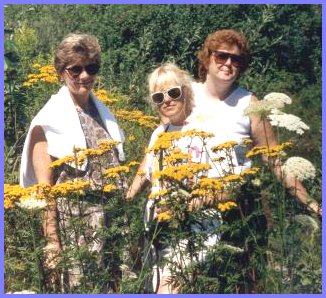 Ann Nightingale, Shirley Giesbrecht, Pat Gillis
Yarrow's Backyard Farms, Yarrow, B.C.
---
Yarrow Mennonite Brethren Church, Yarrow Central Road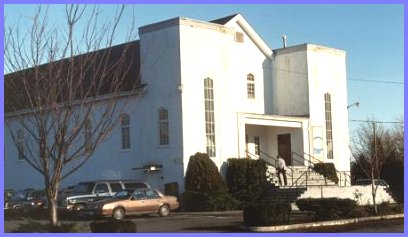 Sunday School Class - 1951-54. Teachers: D. Klassen and H. Enns
Victor Kopp, Abie Klassen, David Nickel, Ernest Neufeld, Mr. Henry Enns
Mr. David Klassen, David Dyck, Edwin Epp, Allan Martens, Rudy Baerg, Danny Loewen
Walter Teichgrab, Gordon Paetkau, Elmer Wiens, Robert Giesbrecht
David Klassen, Willy Langemann, Don Fehr, Victor Janzen, Edwin Lenzmann
---
---
---
---
Mennonite Historical Society, Memorial Cemetery Tour
Yarrow Cemetery, Hare Road,
Yarrow, British Columbia (May 14, 2005)
Sarah Martens Addressing the Society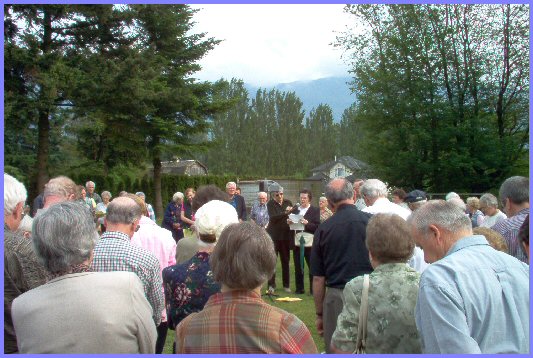 ---
Yarrow School, Wilson Road North
Yarrow School Teachers, 1953-54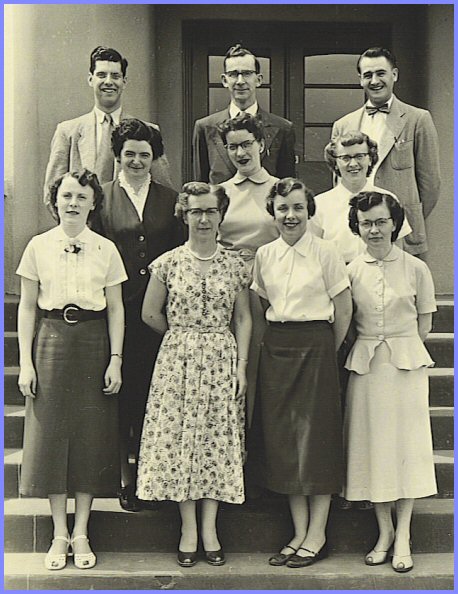 Harry MacTaggart, Walter Ferguson, Arthur Kurz
Dorothy Barrett, Lillian Beales, Erma Wiebe
Elizabeth Lavigne, Frieda Nightingale, Eleanor Wicoll, Agnes Allert
Yarrow School - Grade Eight Class (1953-54)
Yarrow School - Grade Six Class (1955-56)
---
Yarrow Days 1994, Yarrow Park
Hank Martens, Otto Baerg, Bob Epp
---
Such A Serene Yarrow Sunrise
Vedder River Duckpond, Vedder River, Yarrow, B.C.
Downtown Yarrow - D.& D. (Derksen and Dyck) Hardware
Downtown Yarrow - Yarrow Market (Funk's General Store)
Downtown Yarrow - Columbia Press (Neufeld's Print Shop)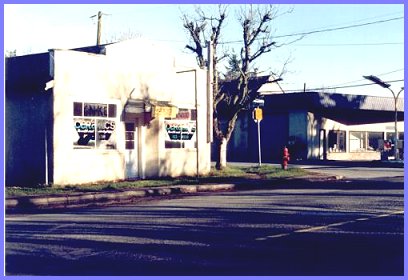 Downtown Yarrow - Hank Giesbrecht's Barber Shop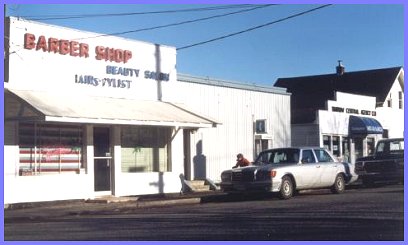 Hank Giesbrecht and Elmer Wiens
Yarrow riddle:

Hank, "The Barber," shaved everyone living in Yarrow,
who did not shave himself.
Who shaved the barber?
Hangin' with Hank
Elmer Wiens, John Thiessen, Otto Baerg, Mel Martens, Robert Giesbrecht, Hank Giesbrecht, Stan Harder,
Keith Wilson (customer) September 25, 2006
Downtown Yarrow - Cafe (Betty Menges' Cafe)
Yarrow Building Supplies Ltd
---
Yarrow Old Timers
John Penner and Edwin Lenzmann
---
Die Drei Yarrow Bengel
Walter Teichgrab, Gerry Klaassen, Elmer Wiens
---
"Yarrow Poets' Society"
Launch of a West Coast edition of Rhubarb
A Magazine of New Mennonite Writing
Café Montmarte, Vancouver, November 5, 2005
Larry Nightingale
Leonard Neufeldt
Robert Martens
---
Yarrow Book Launch of Windows to a Village (October 10, 2007)
Susan DeLong, Susie Derksen, Jennifer Hamm
---
Yarrow was founded mostly by Dutch-Prussian-Russian-Mennonites on land reclaimed in part from Sumas Lake, after the provincial government built dykes to channel the Vedder River through the Vedder Canal to the Fraser River. Completed in 1924, this dyking project opened 12,000 acres of land for agriculture just west of Yarrow. By 1928, a new Mennonite Colony was established. The village of Yarrow nestles between Vedder Mountain to the south and the Vedder River to the north.

For a wonderful book about Yarrow - its history, pictures of people, and places - see:


Klassen, Agatha. E. Yarrow: A Portrait in Mosaic. Clearbrook, B.C.: Klassen, 1976.
For a recent book about Yarrow see:


Neufeldt, Leonard N., ed. Yarrow, British Columbia: Mennonite Promise. Victoria, BC: Touchwood, 2002.
Its two volumes, Before We Were the Land's, and Village of Unsettled Yearnings, chronicle, with the aid of journals and interviews of pioneers, the rise and fall of the village of Yarrow as a stronghold of Mennonite life. Contributors include Arthur Bartsch, Arthur Block, Susan Braun Brandt, Mary Lenzmann Braun, Dorothy Loewen Derksen, Jack Derksen, Anne Rempel Dyck, Elizabeth Wall Dyck, Harold Dyck, George Epp, Irma Neufeldt Epp, John Friesen, David Giesbrecht, Esther Epp Harder, Lillian Harms, Selma Kornelsen Hooge, Lena Giesbrecht Isaac, Thelma Reimer Kauffman, Agatha Klassen, Ruth Rempel Klassen, Ethel and Edith Knox, Gladys Loewen, Jacob Loewen, Robert Martens, Harvey Neufeldt, Leonard Neufeldt, Larry Nightingale, Peter Penner, Olga Remple Peters, Chuck Regehr, Lora Neufeldt Sawatsky, Marlene Sawatsky, Charlotte Rempel Shier, Ruth Derksen Siemens, Edith Rempel Simpson, Veronica Barkowsky Thiessen, and John Wiens.

Until recently, Yarrow was a typical Mennonite community. Today, many people who grew up in such communities, nurtured within the "Mennonite Gemeinshaft," question their Mennonite identity. Following the 1986 bicentennial of Mennonites in Canada, a group of Mennonite academics presented papers on Mennonite Identity on May 28-31, 1986, at Conrad Grebel College. Their papers and discussions are collected in the book:


Redekop, Calvin Wall and Samuel J. Steiner eds. Mennonite Identity: Historical Contemporary Perspectives. Lanham MD: U P of America, 1988.
Contributors include: A. James Reimer, J. Denny Weaver, Clark Pinnock, Perry Yoder, James C. Juhnke, Rodney J. Sawatsky, James Stayer, Delbert Wiens, Don Wiebe, Kem Luther, Donald B. Kraybill, Calvin Redekop, Alan B. Anderson, Al Dueck, V. R. Koop, Hildi Froese Tiessen, John L. Ruth, and Gerald Noonan.

Armin Wiebe captures the feelings and comedy of life in a Mennonite community in his books:
Wiebe, Armin. The Salvation of Yasch Siemens. Winnipeg: Turnstone, 1984.
Wiebe, Armin. The Second Coming of Yeeat Shpanst. Winnipeg: Turnstone, 1995.
His novels, set in the mythical Mennonite village of Gutenthal, Mannitoba, relate the life of Yasch Siemens and his wife, Noba Naze's daughter Oata. Although written mainly in English, Wiebe's text has the rhythms and tactile warmth of Plautdietsch, the vernacular of Prussian and Russian Mennonites, with its "Flat German" dialogue. The Second Coming of Yeeat Shpanst has a glossary of Plautdietsch phrases and words.

Plautdietsch is a language spoken by ethnically Dutch (Frisian), Russian Mennonites, who arrived in North and South America by way of Prussia and what is now the Ukraine.

Kjenn Jie Noch Plautdietsch? Herman Rempel has published an online Mennonite Low German Dictionary.

A star is born! In A Complicated Kindness, Miriam Toews tells the aching, "coming of age" story of Naomi Nickel, a Mennonite girl ensnared in the dynamics of a dysfunctional Mennonite family trapped in a Manitoba town controlled by religious fundamentalists.
Toews, Miriam. A Complicated Kindness. Toronto: Alfred A. Knopp, 2004
Do you have any old photographs of Yarrow: work, school, people, activities, sporting events, or whatever?
If you send a copy to the address below, I will put them on this web page.
Elmer Wiens
204-5555 Balsam Street
Vancouver, B.C.
V6M 4B5
---
Go to the homepage of Pat and Elmer.